We look forward to showing you all the resources your library has to offer!
  Established 1911
Today was officially the last day of work for the library's beloved Jean Shaw. She has given so much to the kids and citizens of Caribou over the years, and now she has the chance to enjoy some new adventures, which she truly deserves! Jean has shared a wealth if education, experience, and intuition with all of us, and we would very much like to hear from people whose lives have been touched by Jean, either as a message, a note in the mail, photos, or whatever else you choose. Our physical and mailing address is Caribou Public Library, 30 High Street, Caribou ME 04736. Thank you, Miss Jean, for making us such a big part of your life, and know that no matter where you roam, you'll always have a home. :) <3 ...
View on Facebook
 The best of Maine web resources and databases are in MARVEL!


Social Media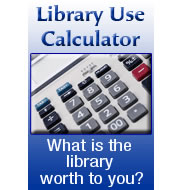 click link below