We look forward to showing you all the resources your library has to offer!
We are hiring!
Library Director
The City of Caribou seeks a new Director of the Caribou Public Library. The new director will lead the library in continuing to be a dynamic 21st Century Library and realizing the library's great potential.
The ideal candidate will Develop and implement strategic plans, establish long- and short-term goals and objectives for the Library, Analyze for improvements in operations, procedures, services, staff organization and monitor preventative building maintenance program. The candidate will also serve as a liaison to the public, work with the Friends of the Library to enhance library programs, and implement a library foundation to receive major gifts. The position will also oversee all full and part time library staff and play a major role in selection of all library personnel.
Qualifications: Master's degree in Library and Information Science from an ALA-accredited program preferred. Bachelor's degree in Library and Information Science or related required. Minimum of 3-5 years of library experience with demonstrated knowledge of public library administration and managerial experience. An equivalent combination of education and experience may be considered. The candidate must have a good understanding of contemporary library technologies including integrated library system management.
To apply please submit a cover letter, resume, and completed employment application to Jim Chandler, Assistant City Manager, 25 High St, Caribou, ME 04736 or via email to jchandler@cariboumaine.org. Position is open until filled with first review of applications happening on September 12, 2016.
The full job description may be found here.
  Established 1911
Click here to access thousands of periodicals and databases for everything from education and job training to hobbies to Consumer Reports!

Social Media
[slideshow_deploy id='899′]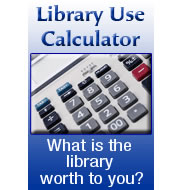 click link below